RVR Tex30LCD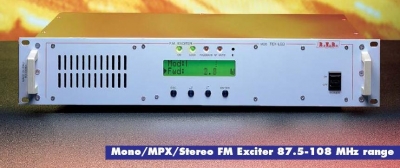 - adjustable power output from 0 to 30w with any VSWR conditions, thanks to FOLD BACK control of both. forward and reflected power.
- Power supply multi-voltage from 80-260V directly without selector.
- Meets or exceeds all FCC and CCIR requirements.
- Low cost with high performance
- Composed of only 4 modules easily replaceable, allowing the realignment of equiment with almost
total absence of adjustments.
- SMD Technology circuits for maximum reliability and minimum encumbrance with the optimum signal routing.
- Available with 2 SCA/RDS input connectors.
- The main parameters are available also on terminal board for remote control.
- Built in stereo coder with high performance.